The words curtains and draperies can refer to the same types of window treatments, but some people distinguish between them. Generally, curtains are designed to hang on curtain rods from rings, ties, or tabs; they are drawn open or closed by hand. Draw draperies, on the other hand, are designed to hang from hooks in their pleats. These hooks attach to a track in a traverse rod, which enables them to be drawn via a drapery cord. On this page, you will find definitions of the various types of curtain rods as well as a discussion of their uses.
Round cafe rods, available in a wide range of styles, sizes, and finishes, are designed for cafe curtains or full-length curtains that are hung on rings or gathered on the rod.
Single or double flat curtain rods are designed to hold fairly lightweight rod-pocket curtains or valances that are either gathered on the rod or hung from oval rings or hooks.
Swing rods or portiere rods are adjustable hinged rods designed for corner window or bay window applications. They are available in both flat and decorative styles.
Wide flat rods are available in 2 1/2 inch and 4 1/2 inch widths. They add visual depth and interest to traditional window curtain styles, but they do require extra-wide rod pockets.
Flat or round sash rods attach to the top and bottom of a window frame with shallow curtain rod brackets. Sash rods are often used on casement windows and French doors to hold sash curtains or hourglass curtains.
Round or oval tension rods have plastic or rubber tipped ends and an adjustable spring-tension mechanism to hold the rod within the window frame. They are often the best practical solution for recessed windows.
Wood poles, used with support brackets and decorative finials, can add style and flair to tab curtains and rod-pocket curtains. With matching wood rings, poles can also be used for flat curtain panels.
Sleek cable rods consist of twisted wire cabling that is cut to length, along with simple rings and end support brackets. The cable rod system's minimalist appearance works well with contemporary decors.
---
Copyright © Zeducorp.
All rights reserved.

Curtain Rod Glossary - Curtain Rod Uses
Related Images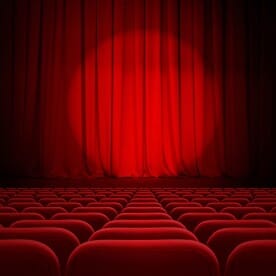 Red Seats And Red Curtain In A Theater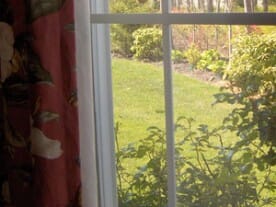 Window Curtain Enhances Garden View